⬅ Find nearby activities
Beer and Chocolate Tour of Beacon Hill & Back Bay
Didn't think you could pair the two? Think again.
Boston, MA
3 hours
1-12 guests
April 21, 2013 @ 12:30pm
Tickets Left: 5
12:30pm - 3:30pm
$50
per person
Book Now
April 28, 2013 @ 12:30pm
Tickets Left: 12
12:30pm - 3:30pm
$50
per person
Book Now
May 04, 2013 @ 12:30pm
Tickets Left: 8
12:30pm - 3:30pm
$50
per person
Book Now
More dates
Looking for hotel deals? Show Prices
Ask Bill a question
Have questions or want to customize this tour? Bill would love to hear from you. You can usually expect a response within 24 hours.
Description
Overview:
Are you ready for the most unique tour you've ever seen in Boston?? Clear your taste buds for this beer and chocolate walking tour through Beacon Hill and the Back Bay. You will leave with some fun beer and chocolate tour facts and a combination of flavors that will blow your socks off.
Itinerary:
The tour starts on the beautiful Charles Street with some awesome beer at one of the coolest packies in the city, Charles Street Liquors. They offer a huge selection of Domestic Craft and Imported beers. You'll leave here with some fun beer facts and know-how to kick off your chocolate and beer tour. Just a few doors down, your first delectable chocolate samples will be waiting for you.
Now it's time for a pub stop at The Sevens - a true blue Boston dive with the most charm you'll find anywhere in the city. You'll get a feel for where the locals of this neighborhood go while enjoying a drink of your choice, but recommendations will be provided by your beer and chocolate expert of the afternoon.
If you're feeling a little chilled at this point, now's the perfect time to enjoy a sample of hot cocoa from Max Brenner and browse their small gift store.
The tour will conclude at Bukowski Tavern, a popular small and cozy pub right off of Massachusetts Avenue. No doubt about it, you will leave this tour with a buzz from all the smooth, rich flavor pairings and scenic walks through an awesome part of the city.
Price Includes
Walking chocolate tour through Boston's Beacon Hill and Back Bay
Chocolate samples
3 beer stops
Chocolate and Beer facts
A fun time
Rules
Must be 21 or over. Beer is not included in cost of ticket due to MA laws. Your guide will recommend beer to sample with chocolate. Come with an open mind and a hankering for chocolate. Wear comfortable shoes as this is a walking tour and dress for the weather. Questions, call 888-573-3259.
Meeting Place
143 Charles Street #1, Boston, MA 02114
No blog posts by Bill yet.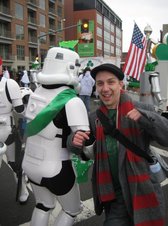 Bill H.
Message Bill
View Profile
Location: Boston/Cambridge
Occupation: Restaurateur / Tour Guide
School: Life
Favorite Places: Dive Bars, Thrift Stores, Cafes, Hidden City Gems
Languages: English
About me: I'm a 28 year old guy born and mostly raised here in Boston. I have a passion for live music, delicious food, and drinking coffee in cool spots. I absolutely love my city and one of my favorite activities is showing it off to others. I am a huge fan of sharing my favorite spots as well as helping others root out what will become theirs. An actual tour guide with connections to others in the touring community as well as the restaurant/cafe and musical world of Boston, there isn't anything that I can't find for you.
Comments