⬅ Find nearby activities
Boston Street Wear Tour
Come Explore the Best Street Wear Boston has to Offer
Cambridge, MA
2 hours
1-10 guests
Looking for hotel deals? Show Prices
Ask Steve a question
Have questions or want to customize this tour? Steve would love to hear from you. You can usually expect a response within 24 hours.
Description
Overview:
What is Street Wear you ask? It's a retro-80's look inspired by the sneaker culture and Hipsters on the Lower East Side of New York. Not to be confused with Urban Fashion or Hip Hop.
Do you like sneakers, cool tees, retro snap back hats and other accessories? If so, this walking tour is for you! Explore some of the trendiest, non commercial boutiques with an expert, while learning about the Boston street wear scene and discovering local haunts.
We'll start in the Harvard Square area, then hop on the T and head over to downtown Boston, where we'll finish the tour.
Itinerary:
Concepts
Details: Originally opened in 1996, Concepts seeks to develop an original and diverse point of view as retail curators.
The Tannery
Details: This big, underground bargain basement for footwear has a wide range of prices and styles for both men and women. Shoes, boots, sneakers, heels, flats, you name it, they got it.
Hootananny
Details: The alternative answer to Boston's chain, Newbury Comics, Hootananny is a mash-up of apparel, footwear, accessories and random novelty items and gag gifts. This stop is sure to keep you occupied for a while.
Kulturez
Details: A store with a fresh look that combines the elements of world culture. Kulturez represents skate culture, DJing, hip-hop, reggae, rock, punk, and more. You won't want to miss this stop.
Then we'll hop on the T and head downtown:
Johnny Cupcakses
Details: What started as a joke from the trunk of a beat up '89 Toyota Camry now lives on the renowned Newbury Street. You're in for quite a surprise at this stop.
BLVD
Details: Inspired by art, music, skateboarding and the life that surrounds it, you'll be sure to find your next favorite tee in here.
Mystery Stop:
Details: The last stop is a hidden gem off of Newbury Street that you'll definitely want to tell friends about, and that's all I'm saying!
Price Includes
Inside knowledge into the street wear culture
A guided tour of Cambridge
Discounts @ select locations
A stroll down the famous Newbury Street
Rules
Come with an open mind and spending money. Expect to do a bit of walking, so make sure to wear your favorite sneakers.
Meeting Place
18 Brattle Street #352, Cambridge, MA 02138
No blog posts by Steve yet.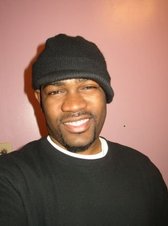 Steve A.
Message Steve
View Profile
Location: Cambridge
Occupation: Design/Fashion
School: Art Institute of Boston
Favorite Places: Cambridge, Boston
Languages: English, Creole
About me: I Was born and raised in Cambridge, Massachusetts. I'm a graduate of the Art Institute of Boston with a degree in illustration and animation. After 7 years of working in sales and being laid off from my last sales job I decided to create my own business. I took time away from work to get back in touch with my artistic roots and after 6-8 months of trying many avenues of art I arrived in the fashion industry. I design watches and accessories for street wear, young adults, and guys and gals in their early to late 20s. Along side of that I do product design, graphic design, painting and graphic arts.
Comments