⬅ Find nearby activities
Vintage Shopping Tour
Learn the hippest spots in Philly to uncover hidden vintage treasures!
Philadelphia, PA
3 hours
1-15 guests
Looking for hotel deals? Show Prices
Ask Meca a question
Have questions or want to customize this tour? Meca would love to hear from you. You can usually expect a response within 24 hours.
Description
Overview:
Just because you have expensive taste and a tight budget, doesn't mean you can't find fabulous clothing and accessories at a great price. How, you ask? Shop vintage!
Not only is it much more affordable than shopping at department stores, it helps the environment and and guarantees you'll stand out among a crowd of H&M or J.Crew clad ladies. Nothing says "I'm stylish and smart" like a vintage frock.
Itinerary:
Sugarcube
Details: A well-edited higher end boutique that mixes vintage with indie brands.
Astro Vintage
Details: A bright, colorful shop with vintage clothes ranging from the 50s-80s, including luggage and housewares.
Philly Aids Thrift
Details: A non-profit shop where all proceeds are sent to charities that fight AIDS.
Goodwill
Details: The "unedited bargain spot" for vintage finds. Although you may have to dig a little, the prices are so low, its well worth the trouble.
Price Includes
Pre-shopping coffee
Map with additional local vintage stores
Styling tips from a handbag/accessory designer
Wrap-up lunch/show and tell
Rules
Be ready for the hunt- you never know what you'll find, so keep an open mind. Wear comfortable shoes and dress in an outfit conducive to trying on clothes.
Meeting Place
54 N 3rd, Philadelphia, PA 09106
Reviews
Rate this tour!
Personal recommendation from Bela S.

Meca - my sweet friend! Her eye is sharp and her verse melodic.

Personal recommendation from Aisha K.

I have been friends with Meca for over 25 years. Many search for what she has known her entire life and that is her "Purpose". Meca has a raw talent and passion for fashion. She is an inspiration to me and many others because of her determination, drive and commitment to transforming women's fashion style through her eclectic designs. She is not only book smart but business savy as well. Meca is selfless in that she has mastered her craft and mentors others to do the same. Meca is someone you would call "Extraordinary" because she possess what men and women strive to obtain.
No blog posts by Meca yet.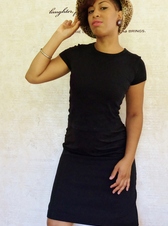 Meca M.
Message Meca
View Profile
Location: South Jersey
Occupation: Handbag designer, Vintage collector, Fashion blogger, Author
School: Fashion Institute of Technology, Thomas Edison State College
Favorite Places: Brooklyn, The Metropolitan Museum of Modern Art, Philly, an Estate Sale, Flea Markets in Soho, home
Languages: English
About me: I'm a fashion designer with a line of handcrafted handbags and accessories (www.jypsea.com) and author of "ENVISION: The Young Accessory Designer's Guide to Collection Development" as well as a vintage collector and reseller, lifestyle blogger and freelance fashion writer for Tyra Bank's website, TypeF.com. I love to meet new people, teach and share resources while looking fabulous and having a great time!
Comments