⬅ Find nearby activities
The Ultimate Beatles Tour
A Magical Mystery Tour of the Big Apple
New York, NY
2 hours
1-2 guests
This experience is pending approval from HipHost and is unavailable for purchase at this time.
Looking for hotel deals? Show Prices
Ask Frank a question
Have questions or want to customize this tour? Frank would love to hear from you. You can usually expect a response within 24 hours.
Description
Overview:
Come see New York through the eyes of the Fab Four! Tour the city that first welcomed the Beatles to America and learn a ton along the way! We'll visit some of the most iconic locations in Beatles history while enjoying a walk around the greatest city in the world.
Itinerary:
The Ed Sullivan Theater
Details: the site of the first-ever US Beatles performance.
Carnegie Hall
Details: the Beatles played their first New York City concerts here in 1964.
The Plaza Hotel
Details: the Beatles stayed here on their first US tour.
Strawberry Fields in Central Park
Details: a memorial to the late John Lennon.
The Dakota Apartments
Details: the former home of John Lennon and Yoko Ono and the site of Lennon's murder.
As we stop at each of the four locations, we'll discuss its significance in Beatles history. Along the way, there will be plenty of Beatles anecdotes, trivia, and hopefully some really fun conversation! Tour wouldn't be complete without some cold ones and Beatles music so we will end at local pub for an hour of Beatles music. I'll provide two free beverage coupons good for beer, wine or soft drinks and discounts on the menu. If that isn't enough, you'll get 2 x 1 beverages while we finish off our afternoon.
And don't worry, no one will laugh at you if you break into "She Loves You" or "Eight Days a Week". Actually, it's encouraged!
Price Includes
Fun, knowledgable guide
Exploration of 5 historical Beatles locations
Beatles Trivia
2 beverage coupons at our last stop, 2 x 1 specials and discounted food
Rules
Be ready to walk a lot, learn even more and have a ton of fun along the way!
Meeting Place
1697 Broadway, New York, NY 10019
No blog posts by Frank yet.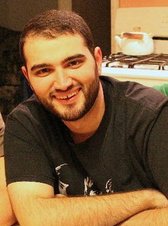 Frank E.
Message Frank
View Profile
Location: New York, New York
Occupation: Community Manager
School: St. John's University
Favorite Places: Empire State Building, Central Park, Times Square, Yankee Stadium
Languages: English
About me: I'm a proud social media nerd, podcaster, musician, blogger, New Yorker, and Community Manager at Likeable Media. I'm all about Superman, Star Wars, and especially the Beatles!
Comments