⬅ Find nearby activities
Tour of the Museum of Fine Arts, Boston
Come visit with Monet, Picasso, Paul Revere, Georgia O'Keeffe, John Singer Sargent, and many ancient cultures.
Boston, MA
1 hour
1-10 guests
Looking for hotel deals? Show Prices
Ask Amy Beth a question
Have questions or want to customize this tour? Amy Beth would love to hear from you. You can usually expect a response within 24 hours.
Description
The MFA is amazing but so large it can be overwhelming. I work at the MFA doing children's tours, and I would love to show you around. The museum just opened a new wing for American Art and Contemporary Art. Included with their ancient collections, there is something to see for everyone. I am happy to do a tour on any topic you are interested in . I have been studying the collection for about a year, and I love sharing what I know about art and art history. The MFA also holds a lot of important colonial paintings, objects, and even rooms, so it is a good way to get a sense of Boston's history as well.
Price Includes
Rules
Price does not include admission to the museum. Let me know ahead of time what you would like to see.
Meeting Place
465 Huntington Avenue, Boston, MA 02115
No blog posts by Amy Beth yet.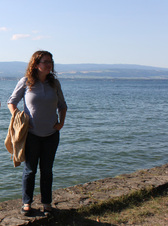 Amy Beth H.
Message Amy Beth
View Profile
Location: Somerville, MA
Occupation: Artist, Teacher
School: BYU, Massart
Favorite Places: Boston, Vermont, Virgina, Geneva
Languages: English, a little French
About me: I came to Boston for graduate school and stayed because it is such a wonderful place. I teach at area schools, give tours at the Museum of Fine Arts, Boston, and am also a practicing artist. I love Boston's amazing museums and its great green spaces.
Comments