Looking for hotel deals? Show Prices
Ask Mark a question
Have questions or want to customize this tour? Mark would love to hear from you. You can usually expect a response within 24 hours.
Description
I can show you around the Treme (yes, the same neighborhood that the HBO series is based on). I have lived in New Orleans for 6 years (ever since Hurricane Katrina hit) and I can show you the sights and introduce you to locals.
Price Includes
Rules
be prepared for the unexpected!
Meeting Place
The host says the meeting place is in New Orleans, LA, but that's all we know. Contact the host to find out where to meet.
No blog posts by Mark yet.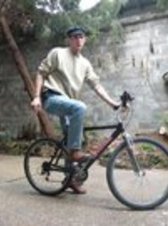 Mark M.
Message Mark
View Profile
Location: New Orleans, Louisiana
Occupation:
School:
Favorite Places: Cafe Du Monde, French Quarter, Treme,
Languages: English
About me: is at Google+ (if I'm not here) http://gplus.to/markmayhew
Comments