⬅ Find nearby activities
Kait's Inside Dish: An International Taste of Boston
Boston is an International city, so come see all that Boston has to offer by eating your way through
Boston, MA
3 hours
1-12 guests
Looking for hotel deals? Show Prices
Ask Kait a question
Have questions or want to customize this tour? Kait would love to hear from you. You can usually expect a response within 24 hours.
Description
Do you consider yourself an adventurous foodie willing to try new exotic dishes? Well look no further this tour is for you! Boston is a delicious international city offering a plethora of food options including everything from authentic Chinese to traditional Italian, to spicy Indian!
I'll take you on a 3 hour walking food tour of International Boston. We'll explore delicious Boston finds as we eat our way through the city.
We'll first begin our day with a sampling of un pasta ( a pastry) and a cappuccino like the Italians do as we explore the North End.
As we walk through the traditional Italian neighborhood I'll point out authentic restaurants, shops, and land marks.
We'll even make a stop at an authentic pasta and bread shop!
Next we'll head over to Boston's crowded but authentic Chinatown where we will explore the area.
I'll point out a variety of delicious and authentic Asian restaurants including places to find authentic Chinese Dim Sum, Korean BBQ, Japanese Sushi, Vietnamese Pho, and Malaysian goodies.
We'll browse through Specialty Asian grocery stores.
Of course we will also be making a stop at a delicious bakery to sample Chinese baked goods and traditional bubble tea!
This tour makes the perfect company or family outing, ideal for any foodie looking to discover a taste of Boston!
Tours can vary based on season, day of the week, time of day, and group preferences. If you have suggestions, food preferences, or area preferences please notify the tour guide prior to making a tour.
Or feel free to customize a private tour, simply contact me telling me your interests, favorite types of foods, group size, and budget and we can come up with a one of a kind tour catered to your specifications!
Price Includes
Sample Pastry and coffee
Chinese baked good
Ethnic Market Tour
Informational session with Chef/Owner
An International Taste of Boston Gift Bag
Sample of Bubble Tea
Rules
Must be able to walk at least two miles. Must notify guide of any food allergies prior to tour. Wear comfortable shoes. Must bring a hearty appetite. Be prepared to have fun. Notify Host of any food preferences prior to booking tour.
Meeting Place
211 Hanover St. Boston, MA 02113, Boston, MA 02111
No blog posts by Kait yet.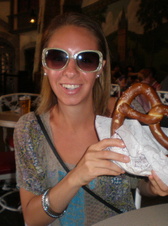 Kait C.
Message Kait
View Profile
Location: Boston
Occupation: food blogger
School: Suffolk University
Favorite Places: The Kitchen
Languages: English
About me: Hi I'm Kait a current college student living in Boston, a food addict, a wannabe chef,a Boston lover, and an adventurous traveler! Since being in Boston I have made it my mission to discover and try as many vegan friendly restaurants as possible (it's research) I hope you're as excited as I am to enjoy a vegan taste of Boston.
Comments